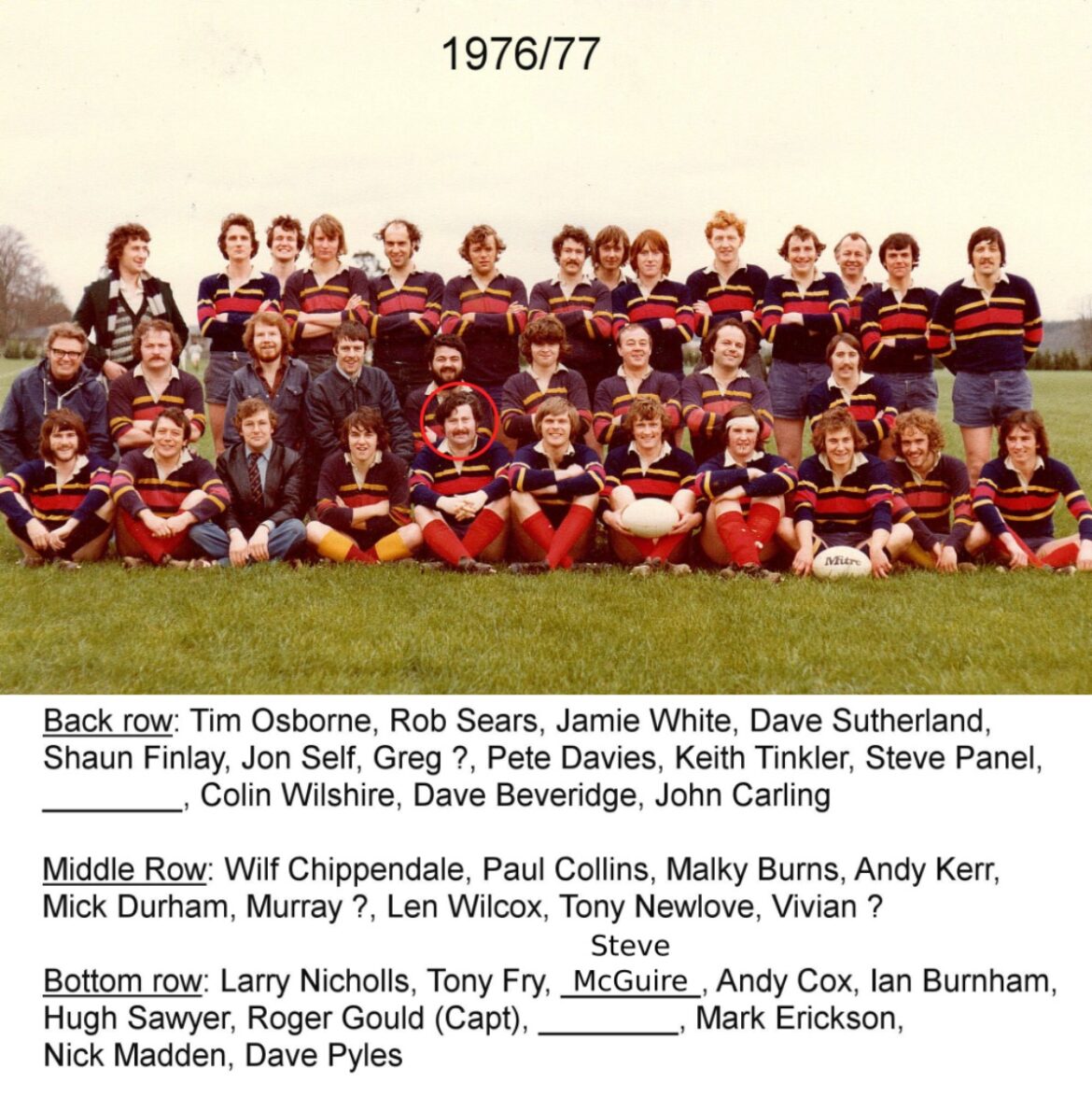 A VP story this week from Ian Burnham, who started playing for CSRFC back in 1971. We are approaching the end of our current series of VP stories, so please write into us if you have one to share! Send them to mail@bathsaracens.co.uk

Special thanks to VP Brian Oliver who wrote into us this month to point out Steve McGuire in the 1976/77 team photo. Always good to put a name to a face!

Born in Yorkshire and raised in Scotland, I started my rugby playing career at Dalkeith High School. Naturally built as a prop I spent the next 30 years or so bent double grunting with the donkeys up front and letting the girlies in the backs get the glory. My early years were reasonably successful as the game was a bit more "sporting" then. Never had to take or throw a punch until I arrived in the West Country in 1971 and discovered the beauty and joy of playing the game for the good old CSRFC at Matson.
As with most of us oldies it was the job with the MoD that brought me to Bath. Within 2 days of arrival in June 1970 I had been poached for the CS by Ron "Chunky" Fordham and my fate was sealed for the next 20 years. Still it brought me many happy memories and many great friends (too numerous to mention individuals but you know who you are). The highlights perhaps were the "Toors" to Guernsey, Jersey and even the Isle of Man. All of which I managed to survive in various states of health and sobriety.
It was teammate Mike Kitley who Christened me with the nickname "Hamish" that has lived with me ever since. With my accent they couldn't believe I was a Yorkshireman and supported England, so they re-named me to make me more Scottish. So to spite them all I decided to support Scotland!
I even managed a spell as Club Secretary for about 6 years towards the end. In 1980 or 81 I was advised to give up contact sports with the inevitable back problems. Discs on the move too often and legs giving way even before I had drunk a drop. So, I lost some weight and went back to play for a spell at full back. (Yes me in the "girlies"). More good times but in 1984 I decided enough was enough, and Bath were needing a few more supporters, so I sold my boots for a couple of pints and called it a day.
Anyway that is enough of boring old me. I have continued to keep in touch with the CS (sorry Saracens) since then through the local paper and the newsletters that arrive periodically. And the Christmas raffle tickets. So good luck to all. Who knows I may even turn up on the pitch side once again. So please take pity when you see an oldie on the sideline.