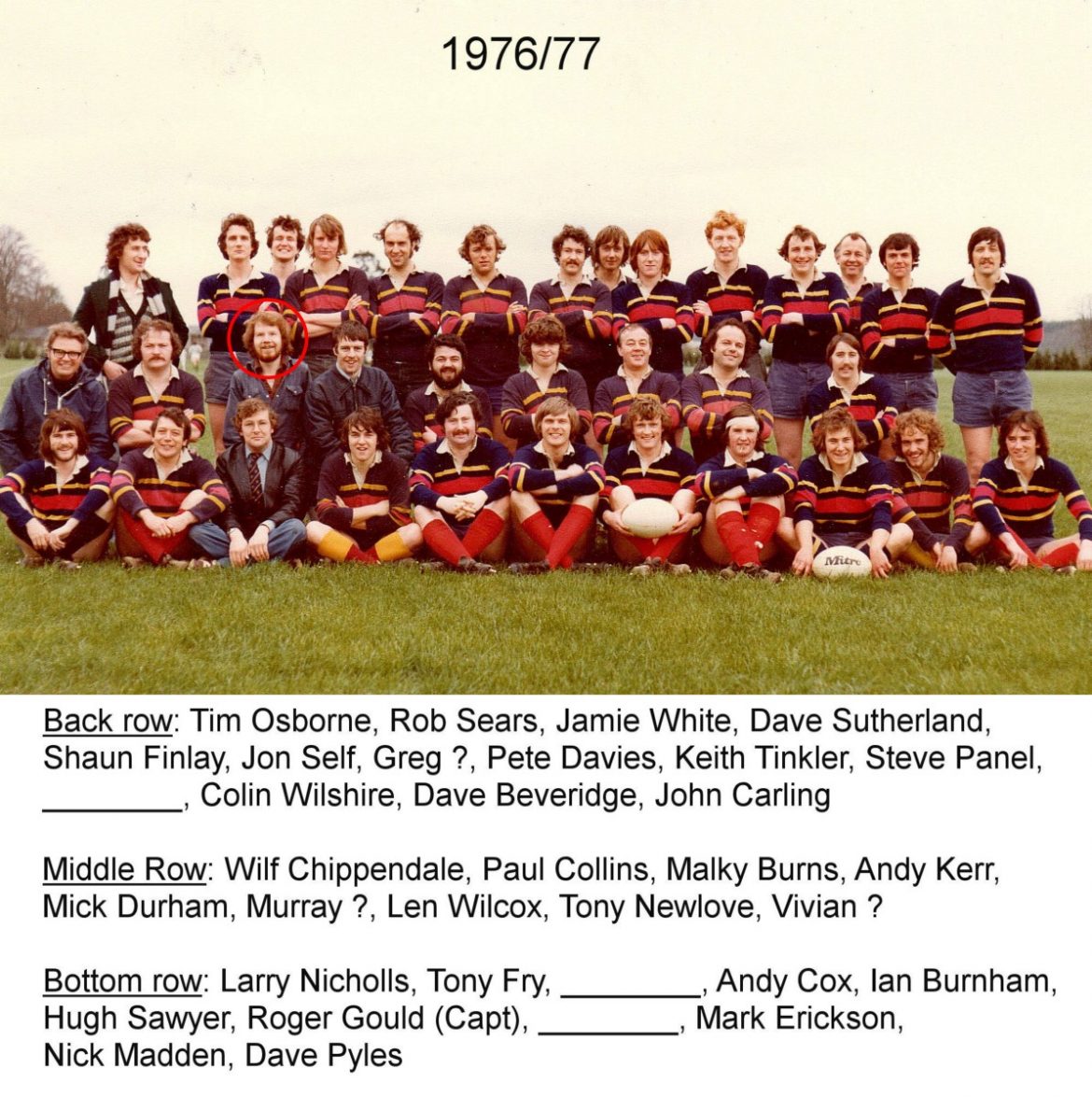 This VP story was recently sent to us by Malky himself, whose 16 year playing career started in 1976. These stories a great tonic in these rugby deprived times, so please don't hesitate to share yours by sending it to mail@bathsaracens.co.uk
I moved to Bath in August 1975 with the Rosyth contingent that included Dave Beveridge, Larry Nichols & Andy Kerr – all Saracens players. I joined what was then Bath CS RFC in early 1976, and my first full season was 1976/77. I had a wee bedsit down on the Bearflat and became part of the 'Devy Arms' crew who played for the club, which included such stalwarts as Selwyn Miners & Barry Clough.
I only stayed in Bath for two years initially, moving on to Plymouth, Cardiff and then London before settling back in Bath in 1982. Even when away, I was back many weekends and scrounging a game where I could (normally for the 3rds). I was social secretary for the club for a few years in the 1980s, a role I thoroughly enjoyed; and I think I am more renowned for my 'social' exploits than my on-field abilities!
I have many fond memories of playing for the club – some good: great seven's tournies on the Rec, the away games at Blagdon (hot bath & real scrumpy); some not so good: 100+ point defeat by Walcot, but I do believe those of us on the field that day did our very best.
Some of my great social memories are the tours – I went on a number of them over the years. One that I won't forget is the tour to the Isle of Man: as we were driving to the Saturday match we heard, over the radio on the coach, that Douglas were looking forward to playing Bath Rugby. Needless to say, we were well beaten by a very strong side. Douglas did make up for it with a great social evening after the game. But the two tours to Amsterdam hold the best memories: the games were good, our hosts looked after us well and the social exploits were amazing to say the least (and I swear most of us never went near the red-light district!).
One of the best years at the club for me was when Terry Brian was captain. The team spirit and social that year was fantastic although our results were not so great. The club did build up again, with the influx of the likes of Danny Avery, John Cook, Paul Kavanaugh and others. All fantastic rugby players, all embracing the social ethos of the club. I have many fond memories of playing during the '80s when the commitment from Danny & Paul really helped to bring the club along.
I became Chairman in 1990/91, but then I moved back home to Scotland in April 1991 so only had that one year in the Chair. My last game was when the club came to Edinburgh on tour in 1991/92 – I played for the first half against Boroughmuir, we lost narrowly but our hosts looked after us well post-match.
I still keep in contact with many old friends via Facebook: Danny Avery, Pete Marks, Andy Parry, John Cook, Ray Waters, Steve Weeks, Andy Cox.
And a testimony to the impact the club has had on me is that my two closest friendships were made there. Martin (Ben) Benson, Nick Hillman & I, along with our partners, still meet up regularly; and, of course, chat about the fantastic memories made at Saracens. I do hope that all playing now enjoy the club, and the game, as much as I have.